History and Biography


Michael Waltrip
Birthdate : 4/30/63
Hometown : Owensboro , Kentucky
Winston Cup :
Team : Dale Earnhardt Inc.
Owner : Dale & Teresa Earnhardt
Crew Chief : Steve Hmiel
Engine Builder : Dale Earnhardt Inc.
Primary Sponsor : NAPA Auto Parts
Make : Chevrolet
Busch Series :
Team : Michael Waltrip Racing
Owner : Michael Waltrip (D'uh !)
Crew Chief : Bobby Kennedy
Primary Sponsor : Aaron's
Make : Chevrolet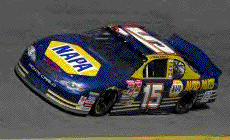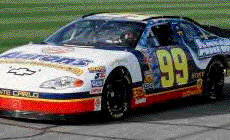 Michael Waltrip has been having somewhat of a Moderate Career in NASCAR : Winston Cup Competition . From the start of his career in 1986 to February 18,2001 , Waltrip could not win a single Winston Cup Points Race for 463 Races . As you know , Michael Waltrip is the younger brother of 3-time Winston Cup Champ , Darrell Waltrip and they have raced in The Winston Cup for about 14 years together but Darrell started in the mid-1970's .
For years , he's searched for Winning Possibilities : Sabco , Bahari Racing , Wood Brothers Racing ,Mattei Motorsports . But in 1996 with Wood Brother's Racing , Michael Waltrip finally got to victory lane in The Winston , It was great except for one thing , It wasnt an Official Points Race .
Michael Waltrip then in 1999 joined the newly formed Mattei Motorsports , till late 2000 , Waltrip still couldnt take victory in his grasp . Finally in Late 2000 , He was accepted into Dale Earnhardt's Team : DEI and now made a member of NAPA Racing .
Then on Feb 18,2001 , Michael Waltrip took the lead at Daytona , and took the checkered flag before Teammate , Dale Earnhardt Jr. But Tragedy struck on Turn 4 when Dale Earnhardt , NASCAR's Greatest Driver of All-Time slamed into the wall and was sadly taken away from the world .
Michael Waltrip since then hasnt finished in the Top 10 or better . But Finally , Closure came when Michael Waltrip and the others returned to Daytona International Speedway for the Pepsi 400 . Teammate Dale Earnhardt Jr. led 116 of 160 laps and on the final lap , Waltrip aided Dale Earnhardt Jr. to win the race .
The rest of the year looks bright for DEI as Park , Earnhardt Jr. , and Waltrip will begin their ascension to the Top of the Points Standings .
Winston Cup 2001 Stats
| | | | | | |
| --- | --- | --- | --- | --- | --- |
| Date | Race | Started | Finished | Qualifying Results | Status |
| Feb 18, 2001 | Daytona 500 | 19 | 1 | 1st race/9th place | running |
| Feb 25, 2001 | Dura Lube 400 | 7 | 19 | 155.379 mph | running |
| Mar 04, 2001 | UAW-Daimler/Chrysler 400 | 4 | 13 | 171.603 mph | running |
| Mar 11, 2001 | Cracker Barrel Old Country 500 | 10 | 23 | 191.186 mph | running |
| Mar 18, 2001 | Carolina Dodge Dealers 400 | 6 | 25 | | running |
| Mar 25, 2001 | Food City 500 | 29 | 22 | 123.602 mph | running |
| Apr 01, 2001 | Harrah's 500 | 7 | 39 | 189.235 mph | running |
| Apr 08, 2001 | Virginia 500 | 35 | 24 | 92.792 mph | running |
| Apr 22, 2001 | Talladega 500 | 8 | 29 | 183.575 mph | running |
| Apr 29, 2001 | NAPA Auto Parts 500 | 29 | 43 | 179.645 mph | accident |
| May 05, 2001 | Pontiac Excitement 400 | 12 | 35 | 123.502 mph | |
| May 19, 2001 | The Winston | 19 | 20 | | running |
| May 27, 2001 | Coca-Cola 600 | 28 | 28 | 181.812 mph | running |
| Jun 03, 2001 | MBNA Platinum 400 | 27 | 43 | | accident |
| Jun 10, 2001 | KMart 400 | 35 | 29 | 185.448 mph | running |
| Jun 17, 2001 | Pocono 500 | 17 | 30 | 167.339 mph | running |
| Jun 24, 2001 | Dodge/Save Mart 350 | 19 | 20 | 92.080 mph | running |
| Jul 07, 2001 | Pepsi 400 | 22 | 2 | 181.459 mph | $108,850 |
| Jul 15, 2001 | Chicagoland Speedway | 39 | 23 | provisional | running |
| Jul 22, 2001 | New England 300 | 18 | 28 | 130.309 mph | running |
| Jul 29, 2001 | Pennsylvania 500 | 23 | 19 | 167.932 mph | running |

Busch 2001 Stats
| | | | | | |
| --- | --- | --- | --- | --- | --- |
| Date | Race | Started | Finished | Qualifying Results | Status |
| Feb 17, 2001 | Daytona International Speedway | 28 | 37 | 181.803 mph | engine |
| Mar 03, 2001 | Las Vegas Motor Speedway | 33 | 39 | 164.304 mph | accident |
| Mar 10, 2001 | Atlanta Motor Speedway | 9 | 3 | 188.514 mph | $17,975 |
| Mar 24, 2001 | Bristol Motor Speedway | 10 | 10 | 123.499 mph | $11,735 |
| May 26, 2001 | Lowe's Motor Speedway | 39 | 43 | | |
| Jul 14, 2001 | Chicagoland Speedway | 26 | 12 | 176.425 mph | running |