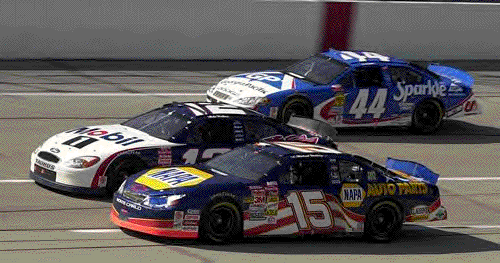 Welcome to my fan site for Michael Waltrip , Here you will find Cool Photos , Race Reports , and other things which are pretty interesting . We have a Good Michael Waltrip Bio , A Cool Photo Gallery , Solid Links , and our Special Secton on God Bless America .
As you full know , Michael Waltrip is the Brother of Darrell Waltrip , The 3-Time NASCAR Champion . Michael Waltrip is a Driver for Dale EARNHARDT Inc. This year , he won the Daytona 500 , but lost his Car Owner and friend Dale Earnhardt Sr. To provide Closure , he finished 2nd in the Pepsi 400 behind Dale Earnhardt Jr. , The Second half of the 2001 Season promises hope for Michael Waltrip as he continues to better his track position .
News :
November 16,2001
Dale Earnhardt Jr. takes pole for NAPA 500, Michael Waltrip qualifies 5th for Sunday's Atlanta Race

November 11,2001
Bill Elliott wins Pennzoil Freedom 400 while Michael Waltrip finished Second. Another close one Mikey , let's go for it next time !

Oct 21,2001
Dale Earnhardt Jr. wins the EA Sports Thunder 500 ! We salute Dale Jr. on his Victory! Too Bad for M.W though , Let's try and get em next time Mikey !
Position Change:
BHSROTC15@aol.com inaugurated as new Site-Master and Commander in Chief of the Site

October 7,2001
U.S Retalliation begins, We support our Men and Women and Uniform !

September 11,2001
Tragic Day for America. World Trade Center and Pentagon attacked by "faceless cowards" God Bless America and God Bless the NYPD and NYFD and America's Military.


August 22,2001
Report Released on the Dale Earnhardt Investigation , Go to
Nascar.com
for Details and a Transcript of the Press Conference which went on earlier

August 19,2001
Hey , Sorry , I was on Vacation but I remembered to watch the races . Michael seems to be improving with each run and so does Dale Earnhardt Jr. and Steve Park . Yesterday in "Happy" Hour , Mikey survived a Terrible Crash at Michigan ... Yikes ...... This week , The Pepsi 400 at Michigan was ended thereby giving the win to Sterling Marlin . Michael Waltrip finished deep in the pack after being lapped several times

July 29,2001
Great Job by DEI , A good Top 5 Streak , Dale Earnhardt Jr. finished 2nd in the Pennsylvania 500 only to Bobby Labonte , Steve Park finished 13th , and Michael Waltrip finished at a contributing 19th position .

July 21 ,2001
Michael Waltrip finished at 26th , Dale Earnhardt Jr. finished 9th , and Steve Park finished 5th . A Great Job by DEI !!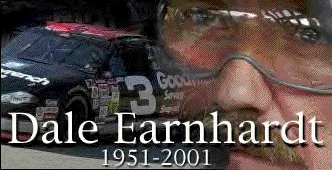 Remembering Friends and Heroes
Note : Planet : Michael Waltrip is not an affiliate of Dale Earnhardt Inc. or in anyway are we officially affiliated with Michael Waltrip.